We undertake turn key Building construction right from Foundation (footing) to painting and project handover. We build Industries, Government offices, residential, educational institution building, apartment, private bungalows and commercial towers.
We provide the related contractor services from design stage to final touch up :
Preparation of site layout as per drawing. Once that is done we carryout following steps:
EARTH WORK
Generally excavation is carried out for the construction of wall foundations. Excavation to be carried out as per the drawings defined lengths & widths. After excavation, layout the foundation and backfill the remaining excavated area around foundation with soil.
CONCRETE WORK IN FOUNDATION
We undertake diaphragm work if necessary. Then we start the concrete works. We undertake necessary Steel reinforcement and shuttering work in the foundation.
Depth of foundation varies as per project requirement.
MASONRY WORK
BRICK/ BLOCK Masonry work is carried out with cement mortar. Cement mortar is a mixture of cement & sand.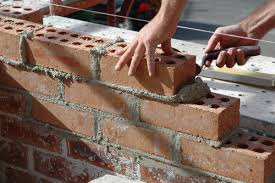 ROOFING
Roofing is of reinforced cement concrete slab.
PLASTERING & POINTING
Generally, internal walls of buildings are covered with plastered layer and external walls with pointing. We undertake brick, block masonary and plaster (single coat mala) / double coat as per client requirement.
DOORS & WINDOWS
We have range of local, carpentry, fabricated and imported doors and windows as per client requirement.
SERVICES
Services are very important for every single house. We provide different types of services during construction. These are Electricity supply, gas supply, water supply, sanitary etc. Conduits for electric supply are fixed in walls before plastering. Similarly water supply and sanitary lines are also laid before pouring of building floor. Note that gas lines are not fixed in walls or slabs. Gas line remains open in air.
To summarise we undertake following works: WORK DESCRIPTION


Name of Civil Jobs
Earth work excavation over all
Earth work excavation in foundation trenches in all
Filling soil with available stored earth (soil)
Filling with earth brought from outside
Providing & laying boulder soling 230 mm
P/Laying plain cement concrete M -10
P/Laying plain cement concrete M-15
P/Laying plain cement concrete M-20
P/Laying R.C.C M-20 work
P/Laying R.C.C M-25 work
P/Laying R.C.C M-30 work
P/Laying R.C.C M-35 work
P/Laying R.C.C M-35 work for column ,beam .
Extra for providing m-25 grade of concrete
Foundation ,footing ,rafts& pedestals shuttering work steel
Beam & lintel shuttering work
Columns shuttering work
Shuttering work from wooden
Providing steel bars and fixing work
Fixing of steel bars (labour)
Plastering interior surface of wall in 12mm
Plastering interior surface of wall in 15mm in two layer
Plastering interior surface of wall in 20mm in two layer
Plastering exterior surface of wall in 15mm
Plastering exterior surface of wall in 20mm in two layer
Average 5/8" thick plaster on roof slab
Providing &laying water proof plaster with C:M 1:5 (20mm)
P/Laying 1st class brick work
per 3 meter height 250 rs/cum extra charge in brick work
P/Laying 4-1/2 " brick work
P/Laying polished kota stone
P/Laying rough kota stone
P/Laying vitrified tile
P/Laying wall tile
Rounding of joints of wall and floor in cement
Making cut-out (1" TO12")in brick
Providing moulding in marble granite &kota
Labour charge against fixing of floor tile
Labour charge against fixing of wall tile
Dismantling of Rcc
Dismantling R.C.C work (columns, beams)
Dismantling of plain cement concrete
Dismantling of brick work
Dismantling of brick work 4-1/2"
Dismantling of steel bars work
Dismantling of floor tile
Dismantling of wall tile
Chipping of R.C.C surface 1" to1-1/2′ deep
P/F Paver block work
Wall crack repair (old plaster chipping & cleaning chicken mash ware with nail's and cement pasting &new plaster work)
Wall crack repair work with crack filler solution
Supply of unskilled male labour(civil work)
Supply of skilled male (mason)
Supply of semi skilled male
Supply of bar binder
Supply of bar binder helper
Supply of carpenter
supply of carpenter helper
Supply of JCB including operator
Supply of hydra
Supply of tractor trolley
P/Laying 1" to 2" floor finishing work (cement sand)
Removal of wall plaster
P/Fixing pencil coving work 12mm wide
P/Fixing silica coving work 75mm wide
providing /filling kota /tile joint epoxy filling work
providing /fixing marble /granite work
dismantling of marble/ granite work
providing /laying brick bad coba work
providing /laying marble skrting work
providing/laying kota skrting work
dismantling kota /marble skrting work
core cutting work 1″ to 4″ (depth 12″)
core cutting work 6″ to 8″ (depth 12″)
core cutting work 10″ to 12″ (depth 12″)
removing of paver block
removing & refixing of paver block work
providing /laying water proofing work
PAINTING JOB
Two coat weather coat paint with two coat putty exterior wall
One coat putty two coat weather coat paint exterior wall
Two coat weather coat paint with touch up putty on exterior painted wall
One coat weather coat paint with touch up putty on exterior painted wall
Two coat acrylic paint with two coat putty in intirior wall (new work
One coat putty two coat acrylic paint on wall
Two coat acrylic paint with touch up putty on painted wall
One coat acrylic paint with touch up putty on painted wall
Flat oil paint internal wall beams etc two paint & one coat cement primer with preparation of surface
Painting of steel structures 2 coat of Hi- gloss synthetic enamel paint with 1 coat primer
Two coat Hi- gloss synthetic enamel without primer
One coat primer & one coat Hi- gloss synthettic enamel paint
Two coat sythetic enamel paint 15mm to 50 mm pipes with one coat primer with scraping work
Two coat sythetic enamel paint 15mm to 50 mm pipes with one coat primer
Two coat sythetic enamel paint 15 mm to 50 mm pipes without primer
One coat sythetic enamel paint 15mm to 50 mm pipes with one coat primer
Two coat sythetic enamel paint 65mm to 100 mm pipes with one coat primer with scraping
Two coat sythetic enamel paint 65mm to 100 mm pipes with one coat primer
Two coat sythetic enamel paint 65mm to 100 mm pipes without primer
One coat sythetic enamel paint on 65mm to 100 mm pipes with one coat primer
Two coat sythetic enamel paint on 125mm to 175 mm pipes with one coat primer with scraping work
Two coat sythetic enamel paint on 125mm to 175 mm pipes with one coat primer
Two coat sythetic enamel paint on 125mm to 175 mm pipes without primer
One coat sythetic enamel paint on 125mm to 175 mm pipes with one coat primer
Line marking 2" to 4" two coat Hi- gloss synthetic enamel paint with one coat primer
Line marking 2" to 4" two coat Hi- gloss synthetic enamel paint without primer
Line marking 2" to 4" one coat Hi- gloss synthetic enamel paint with one coat primer
Two coat enamel paint one coet primer zebra pinting
Two coat enamel paint without primer zebra pinting
Painting of steel structures 2 coat of epoxy paint with 1 coat primer with scraping work
Painting of steel structures 2 coat of epoxy paint with 1 coat primer
Two coat epoxy without primer
One coat primer &one coat epoxy paint
One coat epoxy paint without primer
Two coat epoxy paint on 15mm to 50 mm pipes two coat primer with scraping work
Two coat epoxy paint on 15mm to 50 mm pipes with one coat primer
Two coat epoxy paint on 15mm to 50 mm pipes without primer
One coat epoxy paint on 15mm to 50 mm pipes with one coat primer
Two coat epoxy paint on 65mm to 100 mm pipes two coat primer with scraping
Two coat epoxy paint on 65mm to 100 mm pipes with one coat primer
Two coat epoxy paint on 65mm to 100 mm pipes with scraping work
Two coat epoxy paint on 65mm to 100 mm pipes without primer
One coat epoxy paint on 65mm to 100 mm pipes with one coat primer
Two coat epoxy paint on 125mm to 175 mm pipes two coat primer with scraping work
Two coat epoxy paint on 125mm to 175 mm pipes with one coat primer
Two coat epoxy paint on 125mm to 175 mm pipes without primer
One coat epoxy paint on 125mm to 175 mm pipes with one coat primer
Line marking 2" to 4" two coat epoxy paint with one coat primer
Line marking 2" to 4" two coat epoxy paint without primer
Line marking 2" to 4" one coat epoxy paint with one coat primer
Two coat epoxy paint one coat primer zebra pinting
Two coat epoxy paint without primer zebra pinting
Two coat pu paint two coat primer with scraping work
Two coat pu paint with primer touch up putty
One coat pu paint without primer
Two coat pu paint with one coat putty (new work) hardner base
Two coat epoxy paint one coat primer (spray painting )on structure
Two coat epoxy paint without primer (spray painting )on structure
One coat epoxy paint one coat primer (spray painting )on structure
One coat epoxy paint & touch up primer coat (spray painting )on structure
Two coat pu paint one coat primer (spray painting )on structure
Two coat pu paint without primer (spray painting )on structure
One coat pu paint one coat primer (spray painting )on structure
Coving painting work
providing/laying two coat pu paint water base with scraping work with touch -up putty
providing /laying one coat pu paint water base with scraping with touch -up putty work
providing /laying two coat pu paint two coat primer (water base ) with scraping
providing /laying pop work
CARPENTRY JOB
fixing of shaktimate door (single ) with frame
fixing of shaktimate door ( single ) without frame
fixing of shaktimate door (double) with frame 3 m height
fixing of shaktimate door ( double ) without frame 3 m height
providing shaktimate doorlock with cylinder
providing shaktimate door closer
providing shaktimate door handle D type pair
providing shaktimate door bottom seal 900 mm
providing shaktimate door bottom seal 1200 mm
providing shaktimate external door seal 900 mm
providing shaktimate external door seal l 1200 mm
providng door hinges 4x3x3
providing door gasket
providing tower bolt
providing /fixing toughned glass work 750x 450 mm
Glass removing , cleaning & refixing work
Glass removing , cleaning & refixing with frame work
providing /fixing 5 mm toughned glass work
providing / fixing 5 mm toughned glass window with frame
providing /fixing aluminium partition work (5mm flout glass)
providing /fixing powder coated aluminium partition work (5mm flout glass )
providing /fixing 5mm flout glass work
providing / fixing 12 mm toughned door glass
providing bottom door glass lock
providing door bottom patch
providing door uper patch
providing /fixing frosted film work
providing /fixing 3M frosted film work
providing /fixing sun film work
providing /fixing 3M sun film work
providing /fixing safety film work
providing /fixing aluminium glass (5mm flout) window work
providing /fixing aluminium mosquito mess (ss)window work
providing /fixing aluminium two side open window( one side glass & one side mosquito mess )
providing /fixing mosquito mess work
providing /laying silicon fiiling 5mm work
providing drawer handle
providing drawer single lock
providing three drawer lock
providing sliding channel
providing /fixing wooden work
removing panel partition work
fixing of panel partition work
2″ to 4″ hole cutting in panel ceilling /partition work
6″ hole cutting in ceilling /partition work
panel ceilling cutting work
providing wooden drawer hinges
repair of shaktimate door (single )
repair of shaktimate door (double)
shaktimate double door repairing work 3 meter big door
removing of window double glass with frame
repair of wooden door
repair of glass door ( double )
Openable Z Window Handle – Medium ( Right & Left) Colour – Black & White
Openable Z Window Handle – Heavy ( Right & Left)
Colour – Black & White
Cremone Handle Multi Point Lock Color – Black
Butt Hinges for Doors/Windows Color- Black/White/Silver
Floor Spring Weight Capacity-80kg (Without Pivot)
Floor Spring Weight Capacity-120kg (Without Pivot)
Floor Spring- 75 Sleek Type Weight Capactiy -150 kgs
friction stay ss (202)
friction stay ss(304)
friction arm
H-Type handle 22mm x300mm
H-Type handle 22mm x 450mm
PLUMBING JOB (Hindware , Jaquar)
providing water closet work
providing water closet seat covet
providing wc push button work
providing jet spray
providing jet spray stand
providing urinal
providing urinal sensor
providing hand wash
providing long tap (piller cock )
providing two way coak
providing shop dispensor
providing wash basin drain pipe
providing bottom trap
Waterproofing